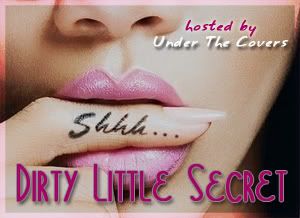 Dirty Little Secret is a weekly meme hosted by us at Under the Covers. Every Thursday we get to know other bloggers and our readers more intimately by asking them a question hoping to reveal their dirty little secrets.  We hope that you will all join us!
"Which author introduced you to urban fantasy or paranormal romance?"
Answer: It all started with me looking for a good book in the historical realm. I found Kresley Cole and The MacCarrick Brothers Series. I read the first book and liked it, but not hugely. I wanted to finish the series so I went out to get the other books and found she wrote paranormal. I wasn't too keen on it but decided to give it a go. I haven't looked back. The Immortals After Dark rocked my world! That just started me then jumping to J.R. Ward, Gena Showalter, Sherrilyn Kenyon, and Lara Adrian to name just  few. My paperback copy of A Hunger Like No Other is so dog eared from reading it over and over, so I had to get it on my Kindle too so I am never without it. 
The following two tabs change content below.
Shari is the Delighted Reader. Married to her Prince Charming and mother to two Princesses and one Prince. When she is not slaving away as Cinderella she loves to get lost in the pages of a good book. Never without a reading device and a few good paperback books, because she never knows when she might get 5 minutes to read!
Related Posts