Welcome Erin Nicholas to Delighted Reader! We are delighted to discuss her new book Hitched from the Promise Harbor Wedding Series!
Thanks for inviting me!  I love talking about this series and this book J
In the first book, Jilted, we meet Allison and Gavin, as Allison dumps her fiancée, Josh, at the alter for Gavin. How hard was it to write about characters that basically, break Josh's heart (well not really)? How do you redeem them?
Well, now that is a question that plagued me from the beginning.  I loved the premise of having her soul mate and true love swoop in at the last minute to sweep her away from the wedding because he couldn't live without her– but yeah, that left a guy behind.  And a great guy at that.  I knew because one, she was about to marry him… he had to be at least okay right? J and two, because he was going to be Kelly Jamieson's hero in the first book and I know the kinds of awesome guys Kelly writes.  So, yeah, how do I keep Allie from being hated and booed?
Basically, she had to have a really good reason for doing it.
That's always true for any character and any action though, right?  What they're doing has to make sense, at least to them.  In Allie's case, it couldn't just be about running off with the guy she's always been in love with though.  It had to also be about, then why would she say yes to Josh's proposal if she still loved Gavin?  Why would she let it get as far as standing at the altar?  Why would she let Gavin get away in the first place?
Hopefully all of those questions get answered in Hitched J  But I can summarize it for now by saying that Allie always puts everyone else first and has had a pretty horrible year and really does have the best intentions… and had a little too much champagne the morning of her wedding!
Oh, and as for Gavin—well, he's less complicated.  He's just a guy in love who can't stand by and watch the love of his life marry another guy without at least telling her how he feels.   Hopefully that doesn't require much redeeming J
I am curious how you get a woman who has had a little too much champagne, is so stressed out and fatigued that she literally falls asleep, all the way to Alaska before she wakes up?
A hunky guy and a private plane 🙂   I promise it all makes sense in the book!
*Sigh* a man who will do anything let the woman he loves know how he feels. To what lengths will Gavin not go to, to win Allison's heart? Anything?
Gavin is a very driven person.  That has been part of their problem in the past—he knows what he wants and there's no deviating from that plan.  Now he wants Allie. So, no, there's not much he won't do for her.
Allison and Gavin obviously have some history before the break up wedding of the season. Where and how did they meet originally?
Gavin's from Promise Harbor like everyone else in the series (except for our favorite archeologist Hank J).  They knew each other in high school but didn't date until college, when they had a hot and serious relationship.  Allie even adds it up in the book—she's been in love with him for six years at the time of the wedding.
As the last book in the series, does wrapping all the lose ends fall to you or do you just have to wrap up Allison and Gavin with their own HEA?
Yep, all the loose ends and where-are-they-nows and what-happens-next falls to me! J  But I loved it.  Of course, I had all the girls read sections of the end to be sure that I had their people where they wanted them.  There's a great scene between Allie and Devon (book one) that Kelly helped me write and Gavin and Hayley (book three) are BFFs from high school and they have a conversation that Syd gave her blessing to.  Kelly, Meg and Syd decided how things would end for each of their couples but I had the pleasure of actually writing it.  Oh, and don't forget Sophie and Owen!  We find out what's going on with them too!
What's up next in your writing future?
I have a new series coming out in 2013 and early 2014 called Counting on Love.  It's a spin-off of my Bradfords series and I'm really excited!  Book one, She's the One, releases June 11th!
Thanks for joining us today Erin!
Thanks so much!
Hitched by Erin Nicholas
And she thought the bridesmaids dresses were her biggest problem…
Allison Ralston would rather be anywhere other than this wedding.  Even if the wedding is hers.  Especially since the wedding is hers.
But Allie's determined to restore her family's happiness, and if tying the knot with longtime family friend, Josh Brewster, is the way to do it, then she'll walk down that aisle, toss that bouquet and drink that champagne.
Oh, she'll definitely drink the champagne.
There's only one thing that could get Gavin Montgomery back to Promise Harbor.  And she's about to say I do to another man. Now he's back to claim what's his—even if he has to do it in the middle of her wedding.
Allie is shocked—and okay, a little turned on—when Gavin literally sweeps her off her feet. Safe in his arms, she succumbs to fatigue, stress, and yes, the champagne, only to wake up in his bed. In Alaska.
Now that he's put four thousand miles between Allie and all her responsibilities, Gavin's determined to show her that they can make a life together.  If he has his way, the next wedding Allie will be planning will be theirs.
Warning: Contains a guy so in love he's willing to break up the wedding of the season, a bride who just needs to get to, well, anywhere else, and enough hot sex to take them from New England to Alaska and back again.
BUY LINKS: Samhain
ABOUT THE AUTHOR
Erin Nicholas has been reading and writing romantic fiction since her mother gave her a romance novel in high school and she discovered happily-ever-after suddenly went a little beyond glass slippers and fairy godmothers! She lives in the Midwest with her husband who only wants to read the sex scenes in her books, her kids who will never read the sex scenes in her books, and family and friends who say they're shocked by the sex scenes in her books (yeah, right!).
For more information about Erin and her books, visit www.ErinNicholas.com, www.ninenaughtynovelists.blogspot.com, or groups.yahoo.com/group/ErinNicholas.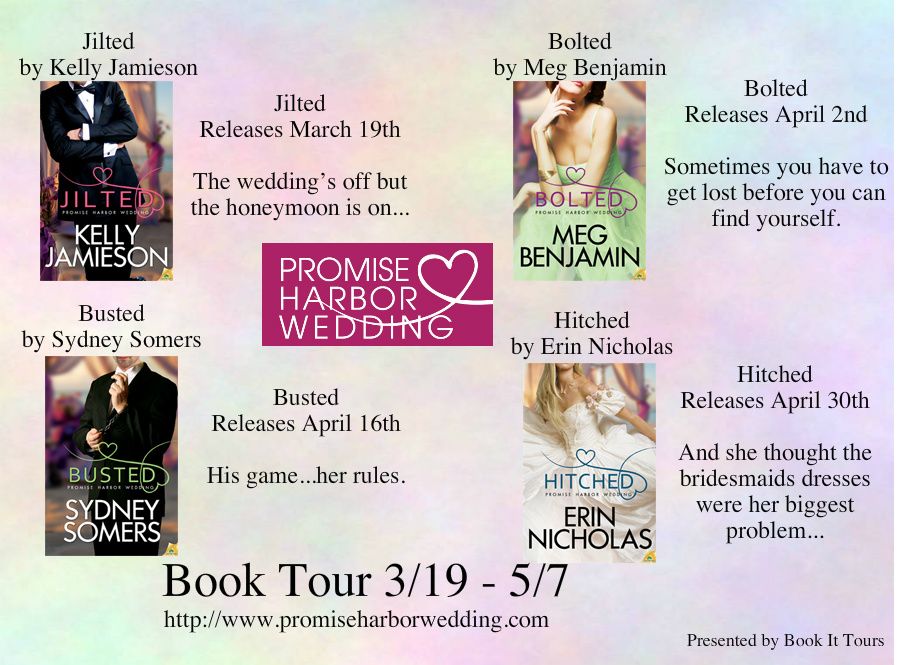 GIVEAWAY
The following two tabs change content below.
Shari is the Delighted Reader. Married to her Prince Charming and mother to two Princesses and one Prince. When she is not slaving away as Cinderella she loves to get lost in the pages of a good book. Never without a reading device and a few good paperback books, because she never knows when she might get 5 minutes to read!
Related Posts