I received this book for free from NetGalley in exchange for an honest review.
This does not affect my opinion of the book or the content of my review.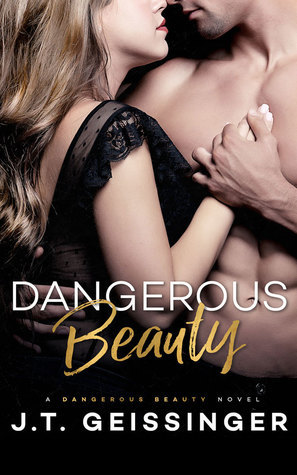 ---
---
---
The Delight
Any book by J.T. Geissinger ends up being a delight for me and this one was no exception. To top that off, this is Barney's book finally. To those of you familiar with the Bad Habit series, you already know Barney. He was the bodyguard for Nico Nyx and someone I've been wanting a book about. We did get a novella recently that featured him, but that just whetted my appetite and I needed more! In this one Naz(Barney) has his hands full guarding and watching a rich Russian man's runaway wife. You can guess where this is going and that was the true delight here.
---
Review
Naz now works for Connor from Geissinger's Wicked Games series. Connor and his wife Tabby are also favorites of mine so I was happy to see them both play roles in this book. Naz is in Cozumel spying on Eva, a beautiful woman and wife to a Russian mobster. He's only supposed to watch and not make contact, but when Eva almost gets killed by drug dealers, he has to save her. He slowly starts to realize that what he thinks he knows about Eva and what is really true are two vastly different things. The two are both hiding secrets from each other and the question is, what's going to happen to their fledgling romance when all is found out-especially on Eva's part?
First I want to talk about the banter. And boy was there banter for days. Geissinger might as well have a Ph.D in banter as far as I can tell. She's the master of it and it was front and center in this read. I so enjoy good banter and Eva and Naz were superb at it. It helped keep me engaged and smiling throughout the read. Not that I needed anything else to keep me engaged. This read was full of romance, action, danger, and yes, even the scenery and beauty of Cozumel. The banter was the icing on the proverbial cake for me.
Characters? Of course, I loved Naz, although I kept thinking of him as Barney. I don't even remember why he was called Barney in the other books because Naz is his real name. He was a popular, although peripheral character previously and I always thought he deserved his own book. The kicker is that this series is a trilogy and he's in all of them. He's a big man, fit, handsome, and before this was kinda quiet. Nothing quiet about this character when he's with Eva. Eva was a strong character that you just know has grown from the way life has treated her. She may have been weak in the past, but now she is blossoming after meeting Naz. She's beautiful and just happy to be free of her horrible life in Russia. She's afraid to let her guard down or to trust, but we see that happen between her and Naz. Of course this book has a villain and he's a doozy! Enough said.
My only problem with this story was the dreaded cliffhanger. But, even though I try to steer clear of cliffhangers, since Geissinger wrote this, I still would read it. I had no idea this ended that way so I was pretty shocked. I realize it was necessary for the trilogy, but I didn't know it was a trilogy until I read it. That being said, I will definitely be continuing on with the series because I am totally invested in the story and characters. Of course, there's not a book by her that I wouldn't read as they are just so good!
Recommended to adult contemporary or romantic suspense readers. 4.25 stars!
---
Preview
The following two tabs change content below.
I'm a lifetime book addict and currently own nine Kindles, with only six still working. I do tend to wear them out! They pretty much are my favorite technology-well that and my cell phone. Okay, yes and my laptop. I spent most of my life in Kentucky, but moved to Maryland in my attempt to get closer to the the ocean a few years ago. Being retired helps. I have a B.S. degree in law enforcement with a minor in sociology, but never really worked in my major. Instead, I spent my entire adult life working in the medical field in some capacity. After retiring(early), I found my passion in reviewing books for a couple of blogs and I love it. My author favorites include, Dannika Dark, Amber Lynn Natusch, J.T. Geissinger, Colleen Hoover, Samantha Towle, K.A. Tucker, Karina Halle, Sarina Bowen, J.R. Ward, Mariana Zapata, Dianne Duvall, and I could go on and on. I read many different genre's, but still like a romantic element in most, if not all of them.
Related Posts